Re: Operation: Restore Maximum Freedom 12
Posted by flier on 2012-04-30 8:38:17pm
---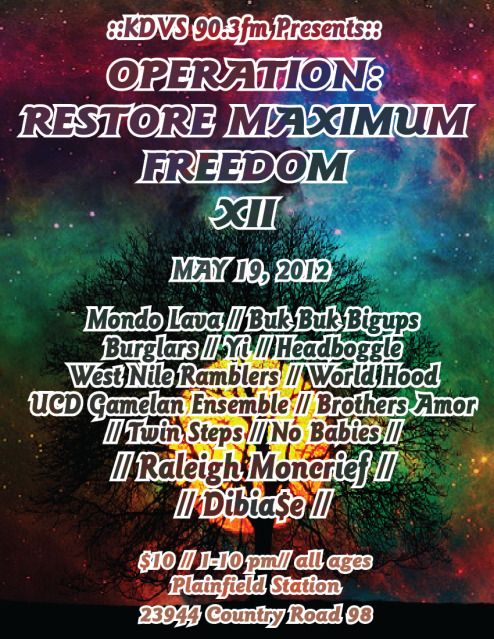 :
:.::FOR IMMEDIATE RELEASE::.
:
:PLEASE SPREAD WIDELY
:
:It's that time of the year again and KDVS 90.3fm is proud to present to you another awesome display of underground acts from all walks of life. Operation: Restore Maximum Freedom is in it's 12th cycle and we are bringing you a slew of artists from our local Sacramento region and afar to create perhaps our most diverse line up yet.
:
:O:RMF is KDVS's chillest, funnest event of the year; It is completely non-profit, community based, multi-genre music festival where all proceeds from ticket sales go directly to bands and the venue. O:RMF will once again be hosted in the gorgeous yard of Plainfield Station set against the beautiful Yolo County farmland between Davis and Woodland. We will have shuttles and bike runs back and forth from Plainfield Station all day. Plainfield Station is gracious enough to provide all participants with great food food and a wide range of beers. If you are looking for the most alternative form of family fun, or a general stress-free good time, this is it.
:
:Please join us for our 12th run in 2012! Enjoy the sun, drink a beer, and emerge yourself in the greater KDVS community.
:
:Pre-sale tickets can be bought via kdvs.org through Paypal or at Armadillo Music at 205 F st. in Davis, CA.
:
:Event information as follows; fliers attached below
:
:
:OPERATION: RESTORE MAXIMUM FREEDOM 12
:
:
:May 19, 2012
:1-10PM
:Plainfield Station
:23944 County Rd. 98
:All Ages
:$10
:
:DJs start at 1pm
:Bands start at 1:30pm
:
:///Bikes leave at 1pm // 430pm from Delta of Venus (122 B St.)
:
:///Shuttle Times TBA
:
:///Food, Beer, Drinks, Clothes, Music, Cuteness, Fun!
:
:OFFICIAL LINEUP
:
:Mondo Lava (Davis)
:http://audiographer.wordpress.com/tag/mondo-lava/
:
:Twin Steps (Oakland)
:http://twinsteps.bandcamp.com/
:
:Buk Buk Bigups (Sacramento)
:http://thebukbukbigups.bandcamp.com/
:
:Yi (Oakland)
:http://yipunx.angelfire.com/
:
:Headboggle (San Francisco)
:http://www.myspace.com/headboggle
:
:World Hood (Sacramento)
:http://worldhoodmusic.bandcamp.com/album/world-hood
:
:UCD Gamelan Ensemble (UC Davis)
:http://www.youtube.com/watch?v=rr7FCGNweNs
:
:West Nile Ramblers (Davis)
:http://www.myspace.com/thewestnileramblers
:
:No Babies (Oakland)
:http://nobabies.bandcamp.com/
:
:Brothers Amor (Oakland)
:http://www.myspace.com/cellardoorhiphop
:
:Burglars (Davis, Santa Cruz, Long Beach)
:
:Dibia$e (LA/Sacramento)
:http://www.mrdibiase.com/
:
:Raleigh Moncrief (Sacramento)
:http://raleighmoncrief.net/
:
:Check out our event on facebook:
:https://www.facebook.com/events/227976170637825/
:
:Or on Davis Wiki:
:http://daviswiki.org/Operation_Restore_Maximum_Freedom
:
:
:KDVS 90.3fm is a registered 501 (3)(c) non-profit and is committed to freeform and educational programming. KDVS is located at 14 Lower Freeborn on the UC Davis campus, is completely student-run and community oriented. More information about KDVS can be found at www.kdvs.org.
:
:/// For any questions or immediate press inquiries, please contact Sharmi Basu at events@kdvs.org or (408) 933 - 8692
:
---
---

Add A Reply: