---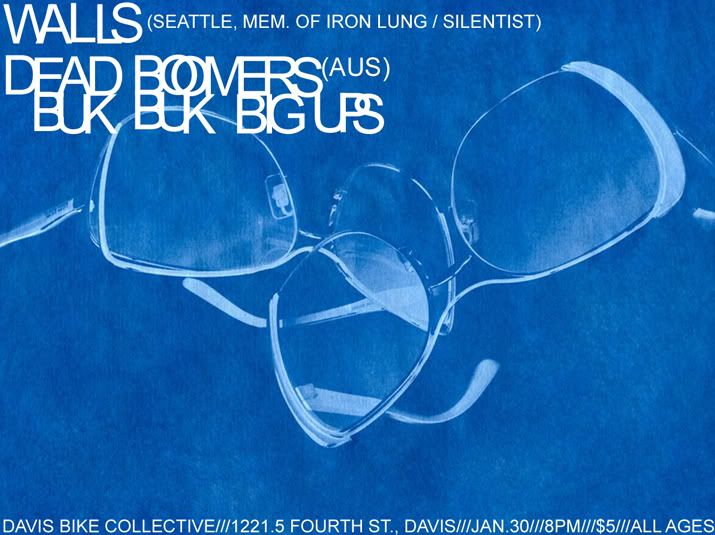 MONDAY.
JANUARYUS.THIRTY.2012.
WALLS (from seattle...mem. of iron lung, silentist, etc.)
DEAD BOOMERS (from australia)
BUK BUK BIG UPS (from MARRS)
8pm...DAVIS BIKE COLLECTIVE. 1221 1/2 FOURTH STREET, DAVIS. ALL AGES. $5 FOR TOURING GUYZ, DON'T BE DICK.
FOR SOME REASON I DECIDED TO CLIMB OUT OF MY SARCOPHAGUS FOR THE FIRST TIME IN A YEAR POINT FIVE TO EXPLAIN THE MEANING OF LIFE TO YOU THROUGH THE MAGIC OF SONG. LIKE ANYTHING I DO THIS EVENING WILL CERTAINLY PROVIDE A LIFETIME OF MEMORIES, A FUNNY STORY, OR SIMPLY GIVE HEATHCLIFF ONE MORE REASON TO HATE MONDAYS. LET'S SEE HOW WHEEZE DOIN THANGZ:
1. WALLS. THIS IS JENSEN FROM IRON LUNG'S OTHER BAND. THAT DUDE THAT SINGS IN SILENTIST IS ON THE TEAM TOO, SO IT IS LIKE THAT TIGER MAN WITH THE BIG BALLS SEZ, "THE'RE GRRRRRREAT" AND I MEAN THAT IN A SINCERE MANNER AS IN "NOT JUST FRIEND GOOD" BUT LIKE IT'S ACTUALLY PRETTY SICK/TEETZ/NICHE/TIGHT. FANS OF DA PISSED JEANS, DEAD AND GONE, AND I DUNNO JUST BROOD ROCK IN GENERAL WILL BE DOWN. I WOULD SEND YOU TO A LINK TO DOWNLOAD THEIR RECORD BUT THAT SEEMS PRETTY DIKISH, SO I WILL JUST REFER YOU TO THIS FINE ASS VID OF THEM PLAYING LIVE RECENTLY TO MASS CHOWDER MOSH AT SOME PLACE CALLED THE NUT HUT (WHICH I DID NOT MAKE UP):
2. DEAD BOOMERS. FROM AUSTRALIA AND ON TOUR WITH WALLS THAT'S ABOUT ALL TEH INFO I GOT FROM NOT GOOGLING ANYTHING. I FIND MYSELF OFTEN SKEPTICAL OF NOISERS IN THE LIVE SETTING BUT THESE GUYS SEEM PRETTY TOP SHELF PER THE YOOTUBE. I PLAN TO ACTUALLY WATCH THEM FOR SPORT:
3. BUK BUK BIG UPS. IF YOU DON'T KNOW ABOUT THIS BAND BY NOW THIS SEEMS LIKE AS A GOOD AN ENTRY POINT AS YOU CAN REALLY EXPECT TO GET. UNLIKE ME, AARON DOES NOT SUCK AT MAKING VIDS TO PROMOTE WHAT HE IS DOING, I LIKE THIS:
I AM TRAPPED IN THE YEAR 2007 AND HAVE NOT JOINED THE TWITTERFACEBALLS REVOLUTION, SO MAYBE BE A GOOD SAMARITAN AND COPY THIS SHIT OVER THERE OR THROUGH YOUR PREFERRED SOCIAL NETWORK OF CHOICE TO HELP A SIMPLE CAVEMAN LIKE ME OUT.
---
thread tree:
MONDAY.01.30.12 - MT. DEW CODE CYAN - 2012-01-27 6:33:47pm
---

Add A Reply: